January 9-12, 2019 – Phoenix, AZ
Online ticket transfers will close December 30th, 2018 at 11:59 pm Eastern Time.
You may transfer unassigned tickets after this date on-site at the Event Management area of Registration. Please be prepared for longer wait times if you need to transfer tickets upon arrival.
New Year Kick Off (NYKO) is the first event of the year, specifically designed to set you up for success in the coming year. During this action-packed event, you'll learn directly from the leaders who are revolutionizing this business. A top-notch lineup of expert trainers will dive into business-building strategies, exclusive training on the IsaLife Success Plan, and so much more.
NYKO is also your sneak peek into the latest updates about exciting new products and sales tools by Isagenix. Plus, you'll have a chance to connect with positive, like-minded Associates who are just as committed to creating an empowering business as you are. Don't miss your chance to kick off the year with major motivation – attend NYKO!
PURCHASE RESERVED SEATING
Join your Isagenix family in raising money to support the Isagenix Legacy Foundation and be close to the action at New Year Kick Off 2019 when we announce the first organizations that'll benefit from Foundation funding!
By purchasing a reserved seat for NYKO 2019, you will be joining us in creating a global impact focused on providing healthy nutrition for undeserved children, wellness education for all, and aid for those affected by natural disasters.
Seating is assigned on a first-come, first-served basis, and seating placement in the Legacy Foundation reserved section depends on the date and time of your ticket purchase.
There are less than 300 reserved seats available, and they will go fast!
You must have an NYKO event ticket to purchase reserved seating, and only five upgraded seat tickets can be purchased per Member ID, per transaction.
*Tax documents will be sent to the Associate who purchased the reserved seating at the end of the calendar year.
TOUR TIMES
Tour       |   Load Time  |  Departure  |  Tour Start Time*
Tour #1  |    6:00 a.m.   |   6:15 a.m.   |  7:30 a.m.
Tour #2  |   7:30 a.m.   |   7:45 a.m.   |  9:00 a.m.
Tour #3  |   9:00 a.m.   |   9:15 a.m.   |  10:30 a.m.
Tour #4  |   10:30 a.m.  |   10:45 a.m.  |  12:00 p.m.
Tour #5  |  12:00 p.m.  |   12:15 p.m.  |  1:30 p.m.
Tour #6  |   1:30 p.m.   |   1:45 p.m.   |  3:00 p.m.
Tour #7  |   2:15 p.m.   |   2:30 p.m.   |  4:30 p.m.
*Tour start times are approximate, based on estimated drive time. 
TOUR DETAILS
Here's what you need to know, before you go!
To purchase tour tickets, you must have an NYKO ticket. Limit 5 tour tickets per household.
All tours depart from the Phoenix Convention Center.
You must be fully checked in at NYKO event registration (with an event badge) to get on the tour bus. For those taking morning tours, we recommend checking in on Wednesday.
No returns or exchanges of tour tickets. Each tour ticket is for a specific time and we cannot exchange tickets to change tour times.
Tours last approximately 1 hour. Depending on traffic, plan to be gone for up to two and a half hours.
Pack light and arrive early for your bus! You may not leave anything on the bus and buses will not be held for late arrivals.
A limited quantity of tickets are available for tours conducted in Spanish and French. These tours will be  departing at 1:45 p.m. only with Tour #6.
Due to the long drive time, Corporate Tours are not recommended for children. If you do wish to bring children, please be aware that a tour ticket is required for anyone age 2 and up.
Event Venue
Phoenix Convention Center
100 North Third Street
Phoenix, AZ 85004
View on Google Maps
Additional Hotels:
Hyatt Regency Phoenix
Preferred Hotel
122 North 2nd Street
Phoenix, AZ 85004
Phone: (888) 421-1442
Click Here to Book With Isagenix Preferred Rates
Group Code: Isagenix NYKO 2019
Room block closes December 18, 2018 at 5pm local time or when sold out!
3 p.m. – 7 p.m. Registration
7:30 a.m. – 6 p.m. Registration
6 a.m. – 6 p.m.  Corporate HQ Tours (ticketed separately)
8:30 a.m. – 6 p.m. World of Isagenix
9 a.m. – 4 p.m. IsaTalks
6 p.m. – 9 p.m. Top 50 Reception
7 a.m. – 6 p.m. Registration
7 a.m. – 8 p.m. World of Isagenix
8:30 a.m. – 6 p.m. General Session
7 a.m. – 1 p.m. Registration
7 a.m. – 3 p.m. World of Isagenix
8:30 a.m. – 6 p.m. General Session
All times are subject to change.
Due to the action-packed nature of this event, we will NOT approve any "In Conjunction With (ICW)" Associate-hosted meetings for January 9 – January 12, 2019. Any ICW meetings outside of this time frame must be scheduled through the venue directly at least thirty days prior to the meeting request date. We appreciate your understanding. For more information, please email Events@IsagenixCorp.com.
With Business-Building Training From
With Additional Appearances By
*Earning levels or income statements (including claims such as the ability to quit a job or stay at home or portrayals of luxury lifestyles) for the Isagenix Independent Associate discussed here exceeds the average results achieved by all Associates during the same time period, are not necessarily representative of the success or compensation that any particular Associate will receive, and should not be construed as typical or average. The ability to earn income under the Isagenix Compensation Plan depends on many factors including an individual Associate's business, social, and sales skills; personal ambition and activity; availability of time and financial resources; and access to a large network of family, friends, and business contacts. Isagenix cannot and does not guarantee any particular level of earnings. Even Associates who dedicate a significant amount of time, effort, and personal funds may not achieve a meaningful level of success. For average earnings, refer to IsagenixEarnings.com.
Isagenix Millionaires are defined as Isagenix Associates who have cumulatively earned $1 million or more with Isagenix. 
Ranks current as of November 2, 2018.
DOWNLOAD THE ISAGENIX EVENTS APP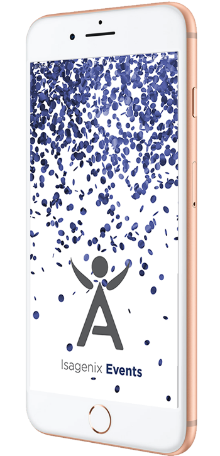 The Isagenix Events app is your lifeline at all Isagenix events. If you have ever attended an event, or plan to in the future, you need to download this app!
By downloading the app and logging in, you will have access to the General Session agenda, trainer bios, venue map, reception and party information, and more. In addition, the app allows you to receive personalized push notifications so you can stay up to date on important announcements on-site.
Here's how you can download the Isagenix Events app:
Search for "Isagenix Events" in the App Store or Google Play.
Download the app to your iOS or Android device.
Download the "New Year Kick Off" event in the app.
Log in to the app by clicking "How to Log In," and then follow the instructions.